Striving for Advancements, a Team Effort with True Analytics Manufacturing Solutions!
Manufacture your own Digital Thread
Transform your company's Tribal Knowledge into Company Knowledge
Safeguard your most valuable asset
Tribal Knowledge
Tribal Knowledge is the undocumented information accumulated and controlled by your company's most valuable front-line employees. True Analytics developed a solution to make transforming Tribal Knowledge into Company Knowledge simple. Our solution helps you solve problems faster while simultaneously building a knowledge base that will manifest itself as a competitive advantage and will safeguard your company's future.
Digital Thread
The Digital Thread centers on the idea that access to data should be simple and universal. Finding a single piece of data quickly leads you to its relatives, which will soon guide you into every piece of information about the related object, subject and/or business process. Data is so neatly tied together it is 'Threaded'. In almost every case we have seen the 'digital thread' is more of a theory than a reality. We wanted to change that, so True Analytics made it a feature in our application. The 'Digital Thread' feature is even better than the Theory!
Process Improvement
Every feature in RevolutionCore™ was designed to support the idea that every part is better than the last. Companies that compete in a global economy can never be satisfied and continuous improvement needs to be the norm, not the exception. True Analytics process monitoring solution is not about metrics, it is about ensuring that every part runs better than the last. We do this by providing a much more actionable look into your data and your shop. Ask for a demo and we'll show you how its refreshingly different.
Key Features
True Analytics - RevolutionCore™ is the most comprehensive Ecosystem for Smart Manufacturing. Our suite of applications are purpose built and designed to enable collaboration, make data accessible, integrate systems and devices, and solve problems. Its designed by manufacturers to solve manufacturing problems.
RevolutionCore™ - the only IIoT Solution Designed specifically for Process Improvement
Tribal Knowledge Solutions
Real-Time Dashboards
Process Performance
Tool Performance
Actionable Reporting - Process Improvement
Digital Process Documentation
System Integration (ERP, Tool Data Management, CAM, etc.)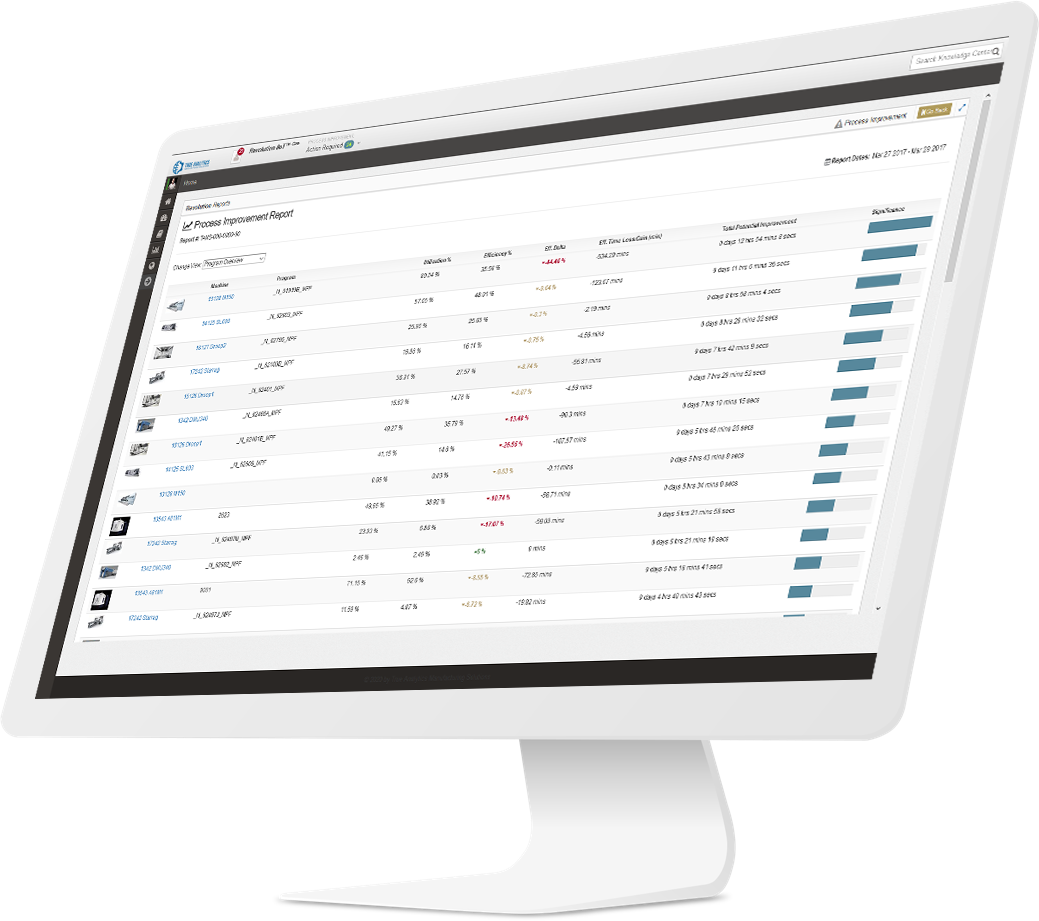 Real Users are the Best Sales Team
RevolutionCore™ is designed to solve real problems. Real people, in real shops, solving real problems...